Single Cylinder 1.125" scale Pumps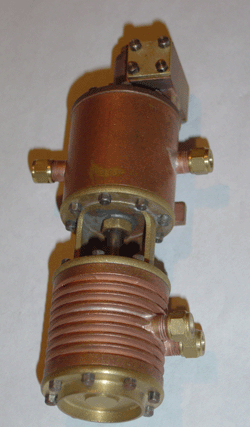 Model of a Westinghouse 10"(254mm) x 10.625" (270mm) air compressor.
Overall height
4" (101.6mm)
Maximum body diameter
1.25" (31.75mm)
Steam cylinder diameter
0.75"(19.05mm)
Water cylinder diameter
0.5" (12.7mm)
Stroke
1" (25.4mm)
Working pressure range
50-120 psi
Complete with fittings for 5/32" diameter copper pipe.
Fully operational
Self starting
Reliable
Lubrication: 600W steam cylinder oil or equivalent
Lubricator is not supplied with the pump but can be purchased separately.
These pumps have successfuly been in production since 1978
*** Price $879 AUD ***
Postage within Australia $25 AUD
Effective January 2015
email: warrick_sandberg@hotmail.com
Phone (02) 4751 1671
Mobile 0412 428 605